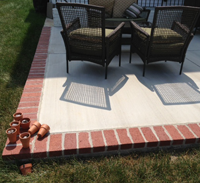 We Know Concrete
What does it take for a company to stay in business for over 30 years? In today's economy, it takes skill, knowledge, experience, compassion, and low prices. At Deane Guy Masonry, we have been serving Saint Mary's, Charles, and Calvert counties since 1978. During that time we have been providing quality concrete work to homes and businesses at affordable prices.
From pouring basements to repairing driveways, our concrete work is something we take pride in. With every job we do, we treat our customers like family. We are a family-owned business after all, so we understand how important it is to make sure you feel welcome and satisfied with the work we do.
A Variety of Jobs
Concrete is everywhere in today's world. At Deane Guy Masonry, we are equipped to tackle any and every concrete job you can think of. We serve both residential and commercial clients. We can pour concrete walls, install garage slabs, add patios and sidewalks, add retaining walls, and even pour foundations.
Don't think that any job is too large or too small; at Deane Guy Masonry, we are here to serve your needs, no matter what those needs are. If you have a unique or special job you need help with, you can count on us to get the job
done right.
Always Growing
At Deane Guy Masonry, we might be a family-owned business, but that doesn't mean we don't use the latest techniques and technology when we work. We have been in business for over 30 years and have learned a few things during
that time.
Each year, we attend the World of Concrete Show. The WOC is an exposition that shows the latest products, equipment, and technology related to concrete. Our years of experience and constant quest for knowledge and technology are two of the reasons why we continue to grow.